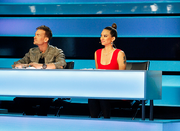 Team Cory= Cory Lee is a judge and a coach. Her boy group name is Rebel Coast and her girl group name is Neon Crush Club!! Cory Lee (born as Cory Lee Urhahn) is a Canadian singer-songwriter and actress. She is most noted for playing the role of Karma in the television series Instant Star, and Miss Oh on Degrassi. On episode 4 Neon Crush Club went home.

Team Damon= Damon Sharpe is a Judge and coach. His boy group name is Electric Ave and his girl group name is Kiss and Shout! Damon has worked with Jennifer Lopez,Big Time Rush, Ariana Grande and Leona Lewis! Damon Sharpe is an American award-winning record producer and songwriter who works in Los Angeles. On episode 4 Kiss and Shout went home.
Ad blocker interference detected!
Wikia is a free-to-use site that makes money from advertising. We have a modified experience for viewers using ad blockers

Wikia is not accessible if you've made further modifications. Remove the custom ad blocker rule(s) and the page will load as expected.